Floorings for outdoor use are increasingly diverse in terms of aesthetics and finishes. Besides their own specific characteristics, they all meet certain basic requirements: they must be waterproof, anti-slip, frost-proof and resistant to loads, weather conditions, temperature changes, mould and stains. Therefore, when you choose an outdoor flooring, you should take into consideration different variables as opposed to those for indoors; for example, materials for outdoors must be suitable for the place and the weather conditions of where they are used (warmer, rainy or frosty areas) as well as for their intended use (garden, driveways, walkways, pool sides etc.).
20 mm thick Panaria porcelain stoneware combines indisputable aesthetics with outstanding technical performance and a break-free lifecycle. Its high tensile strength makes this product suitable for vehicle transit when adhered onto a screed. Furthermore, it is resistant to frost, temperature changes, mould, stains and salt. It is highly anti-slip, easy to clean and its materials and colours stay unvaried over time. The outcome is a product that is suitable for many applications and that can be laid both dry (on grass, gravel, in raised floors) and with adhesive for the outdoor flooring of public and residential areas.
Residential areas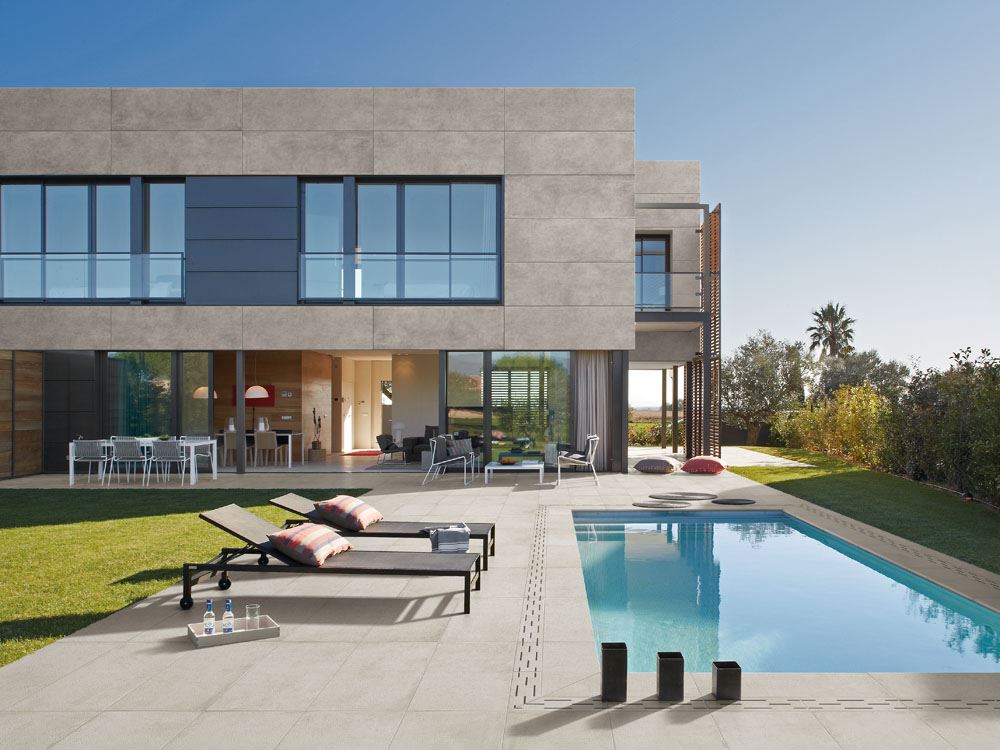 Since 20 mm thick Panaria products are frost proof, anti-slip, have a strong tensile strength, are long lasting and do not require any maintenance, they further enhance life in the open air with perfect solutions designed to furnish the outdoors of your home with a fully Made in Italy style. Simply follow a few suggestions to identify the most suitable product for your needs.
Domestic spaces outside your own home should not be considered as something completely detached from the rest of your house. For this reason, it would be advisable to create a stylistic continuity between the inside and the outside. If the outdoor flooring has been designed for balconies, terraces, loggias or garden walkways, it is important to choose a material that matches with the indoors. And for the outside, especially if the area is not large, it is advisable to avoid using materials that are completely different or with totally different finishes: for example, for the pool side and the walkway.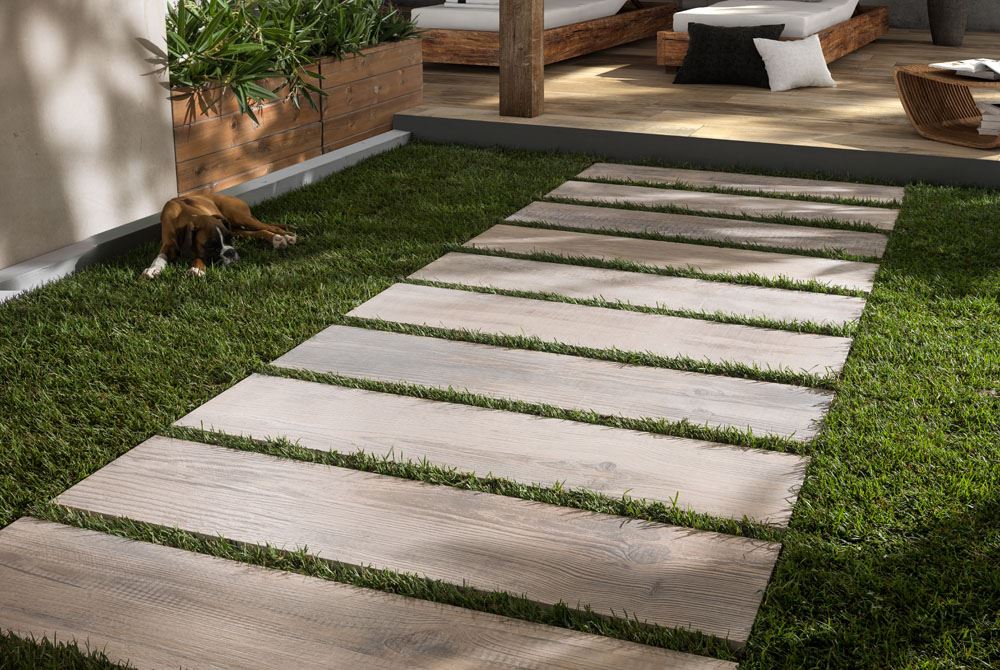 Something that you should always take into consideration when choosing tiles for outdoor areas is the climate conditions of the location. If you live in an area with frequent frosts, it is better to purchase tiles resistant to very low temperatures. If your home is situated in a very rainy area, it is advisable to opt for an outdoor flooring with a low water absorption, therefore water proof, and highly anti-slip.
It is also important to consider the final use of the product. The external area is indeed made up of different elements and materials may change based on the space you need to furnish, such as the garden, the veranda, the pool side, the balconies and the terraces. The characteristics of the flooring for a terrace will be different from those of a pool side. For example, if you need to floor a pathway, you should consider that both people and vehicles will transit or stop on it, therefore you should choose a floor that meets such requirements and that is strong enough. On the contrary, if you need to floor a pool edge, the priority will be given to the anti-slip properties.